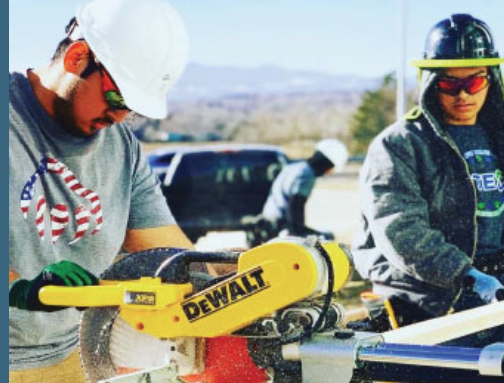 Sept. 7, 2023 - Over 100 Colorado high school students as well as incumbent construction workers are enrolled in a free pre-apprenticeship certification training (PACT) offered by the Construction Education Foundation of Colorado (CEF). The stimulus-supported PACT program supports the improvement and creation of building sustainability throughout the state, while accelerating construction careers for workers and supporting employers in their workforce development efforts. 
With nearly 45,000 new skilled trades workers needed by 2027— a 25% growth rate—students and workers who are enrolled in the PACT program can "earn and learn" a Sustainable Building Certification to either advance or enter their careers in the critical construction industry, without having to take on student loan debt.  
Through a combination of virtual and in-person instruction, program participants learn about the environmental impacts of the construction trades, conservation methods, and ways to create and improve energy efficiency through plumbing, electrical, HVAC and more. 
Participants also receive hands-on education and training in CEF's newly revamped 27,000 square foot training center that also serves as the regional OSHA Training Institute Education Center offering up to 50 different OSHA Safety Training courses. 
CEF's programs ensure Colorado's workforce is keeping pace with increased demand based on the state's growing population and economic expansion. CEF's mission is to recruit, develop, and serve students of the construction industry by promoting innovative educational pathways to rewarding careers in an inclusive, highly-skilled and prosperous construction workforce. To learn more, visit www.cefcolorado.org.