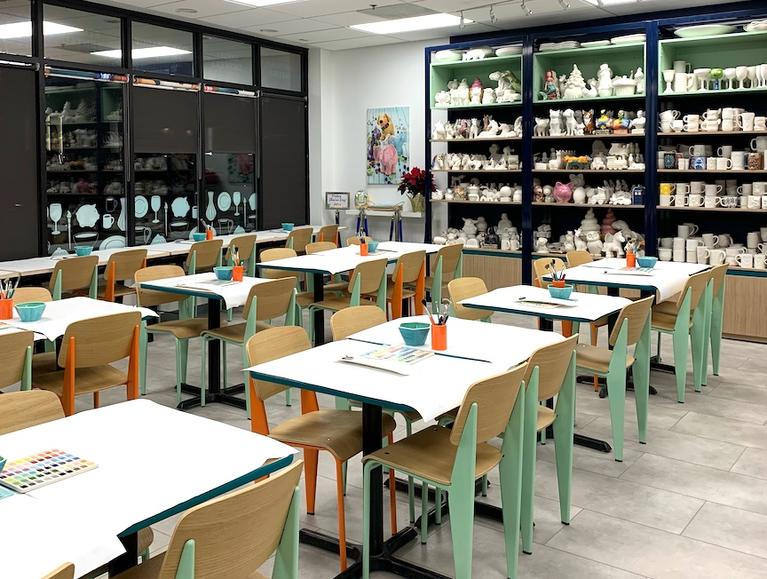 April 19, 2023 - Color Me Mine Colorado Springs, a paint-your-own ceramics franchise, had been open since 2010, but sales plummeted as COVID restrictions took hold and the mall where they were located closed to the public in early 2020. They survived to open a retail space in late 2021 in a new mixed-use shopping area in a fast-growing location. 
One of the largest challenges for Color Me Mine coming out of the pandemic was hiring and retaining a great staff. To address their employment challenges, Color Me Mine participated in a state-funded program called the Good Business Support Program, which included coaching from Spur LLC and was supported by the Colorado Workforce Development Council (CWDC) and Good Business Colorado. 
Color Me Mine worked with two professional business coaches from Spur for six months to incorporate job quality initiatives specific to their organizational goals. In particular, Color Me Mine owner Tracy duCharme recognized that achieving revenue growth and customer satisfaction starts with improving employee satisfaction. At the beginning of their coaching engagement, duCharme stated, "The key to my business is customer service. And the key to customer service is employee engagement."
Supporting managers is a key way to create an engaged workforce and advance job quality to improve business outcomes. Spur helped duCharme align her business goals with the development goals of her manager to help strengthen the business while supporting her employee's professional growth. Additionally, the coaching drilled down into meeting management, goal setting, individualized leadership development, and hiring and maintaining quality staff.  
After their six months of coaching, Color Me Mine had a more empowered general manager, a competitive bonus structure, more engaged employees, record revenue and profits, and a happy owner. duCharme shared, "We learned so much from our coaches and made some big and small changes in our studio. It truly was an amazing experience." 
To learn more about Color Me Mine's job quality journey, check out this case study from Spur. To learn more about job quality efforts in Colorado and how to get involved, visit the CWDC's Job Quality webpage.